Section 6 another great spot for a bevy in our city!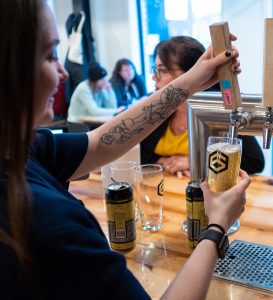 It's a taproom that's welcoming and inviting and it's another great addition to Brandon's downtown.
"The space is comfy with warm woods and large gathering tables," said Kate Hill, taproom manager of Section 6 Brewing, which recently opened in Brandon.
From the bricks outside – recycled from a demolished building nearby - to the wood on its bar, much of what you will see at Section 6 is reclaimed and from the owners' land or their families' land, says Hill.
"Everything is created to make you want to settle in and enjoy a drink and have a good time with friends and family. We are very focused on community and happily welcome all to enjoy the space with us."
After you make your way to Section 6, enjoying the neat atmosphere in the process, it's time to enjoy a bevy or two. What's on tap?
Hill says options include the 'R&D', an English pub ale, which is malty, notes of caramel and just a little bit of hop at the end, along with 'Honey', a quintessential Belgian Ale, described as 'boozy banana bread'. Who doesn't like banana bread!
Section 6 also includes a limited menu from The Dock on Princess, a locally-owned eatery where customers can simply order right from the taproom and their food is delivered to them quickly – all on one tab.
The next time you're in our city, check out Section 6 Brewing!