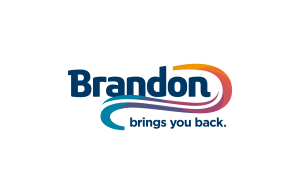 The graphic element that surrounds this word mark references several aspects of Brandon's brand promise.
Its colours can speak to the warm glow of a sunset, the rolling hills of the surrounding prairie landscape, or the refreshing experience of a stroll alongside the winding Assiniboine River. So they speak to the opportunity to connect with the brilliant and beautiful natural surroundings of the Brandon region.
More importantly, they speak to a warm embrace, or the feeling of inclusion that surrounds you in Brandon. This form also represents a vibrant, dynamic and diverse city that is eager to invite visitors in.
Ultimately, you get the idea that there is always a path that leads you back to Brandon. That there is an open invitation to revisit the city again and again to experience the kind of welcome and hospitality that only Brandon can deliver as the region's consummate host.
The City of Brandon's population in the 2021 Census was 51,313, just over a five per cent increase from the 2016 Census. Brandon's growth has kept pace with the fastest growing cities in Canada and demonstrates the opportunities available for individuals, families, and businesses to grow and succeed. According to the 2021 Census, the city's landmass is approximately 79.04 square kilometers and has an estimated trading population of 180,000.
In Manitoba, daylight savings time begins at 2 a.m. local time on the second Sunday in March. On the first Sunday in November, daylight savings time ends at 2 a.m. local time. During daylight savings time, clocks are turned ahead one hour.
The summer season ranges from May to September with daytime temperatures from 12°C (54°F) to 26°C (79°F). The months of November through February usually have considerable amounts of snow and temperatures below freezing. The area enjoys over 2,000 hours of sunshine per year.
The currency used in Brandon is the Canadian dollar. It is recommended that visitors exchange their currency at a bank or foreign exchange outlet prior to their visit.