Artistically Speaking

In-Depth Look at Brandon's Downtown Murals
Visit downtown Brandon and check out the beautiful murals!
Locations
Click the location to scroll to the associated mural.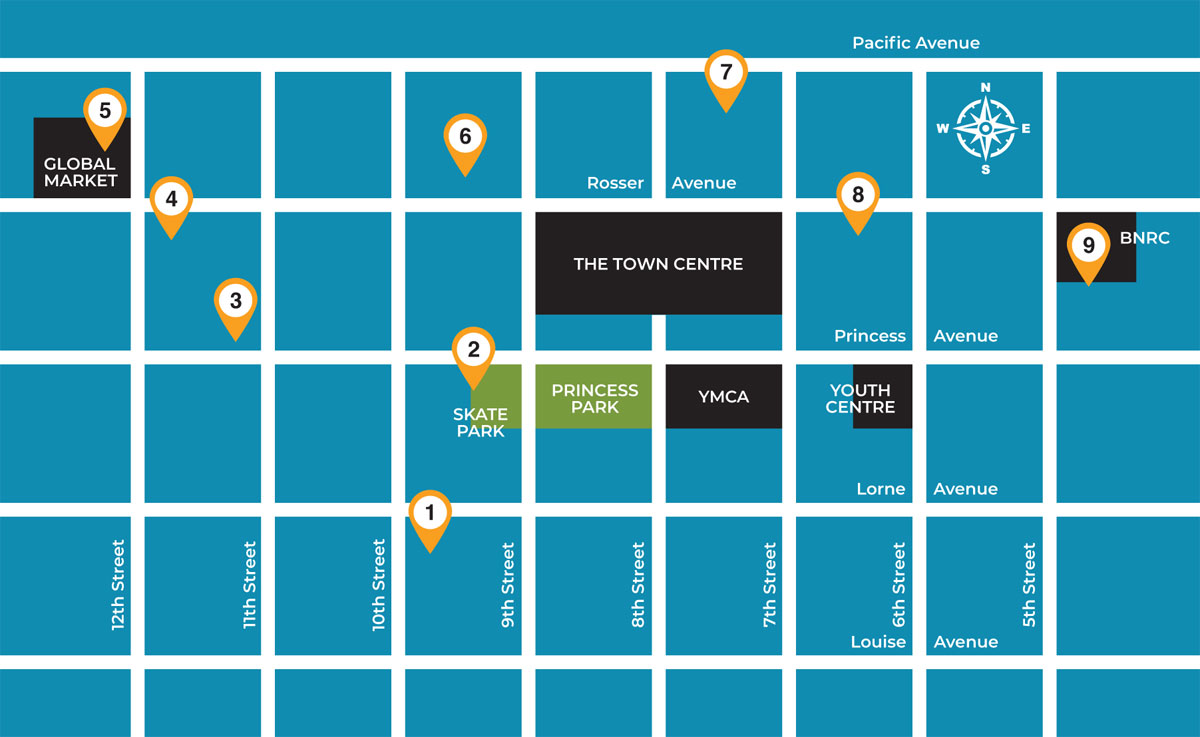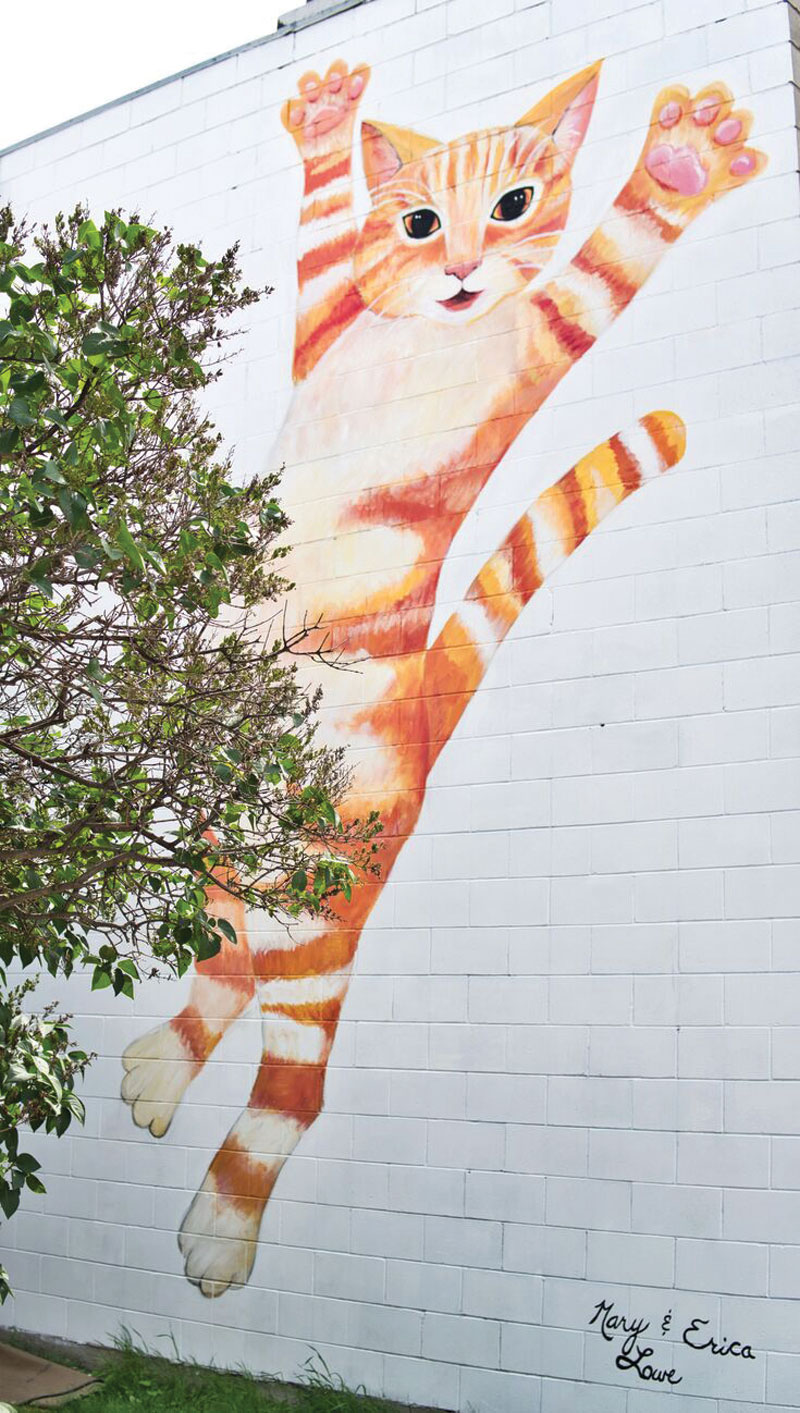 Mural 1
Location: 315 – 10th Street
Artists: Mary Lowe / Erica Lowe
After reviewing some of Lowe's work, the Downtown Mural and Art committee requested Lowe do a fun cat to add a little surprise in this 10th Street location. Lowe and her daughter Erica are local muralists who have created numerous pieces in the westman area and collaborated to create this playful cat to liven up this 10th Street location.

Mural 2
Location: 217 – 10th Street
Artist: Jerry Rugg
About his mural, Rugg says it represents family. "Not entirely in the traditional sense but the type of family we experience in our community," he said. "Our neighbours, friends, and well wishers. It is a gentle nod to the bonds and positive relationships formed and gathered around the skatepark."

Mural 3
Location: 136 – 11th Street
Artist: Trevor Wheatly
Wheatly is best known for his sculptural installations and murals that re-contextualize popular language. Large scale letters made from a range of materials are driven out of the city and placed in surreal natural environments or painted on the sides of large buildings. His work has integrated itself into the world of experiential design and permanent public installation.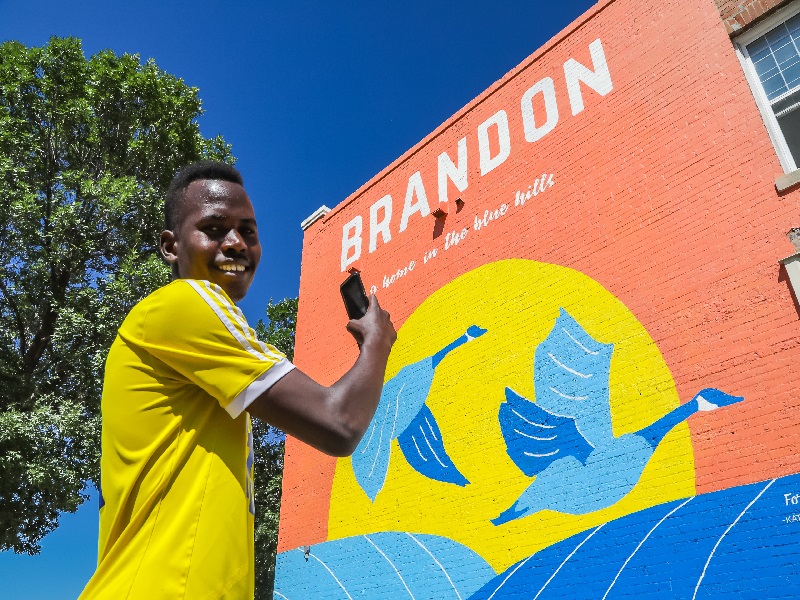 Mural 4
Location: 1126 Rosser Avenue
Artists: Katy Slimmon / Andrea Steingrimsdottir
This mural was designed to reflect the hilly landscape that surrounds Brandon and the geese that return every year. The colours were chosen to match the tents at the Global Market site, an amazing initiative that brings people downtown to share their cultures through food and craft. The bold lettering was also chosen to echo the classic hand drawn sign painting you see in Brandon's downtown, much like the sign on the McKenzie Seeds building. This mural is dedicated to Ina Slimmon, Katy's grandmother, who sees beauty in all things colourful and alive.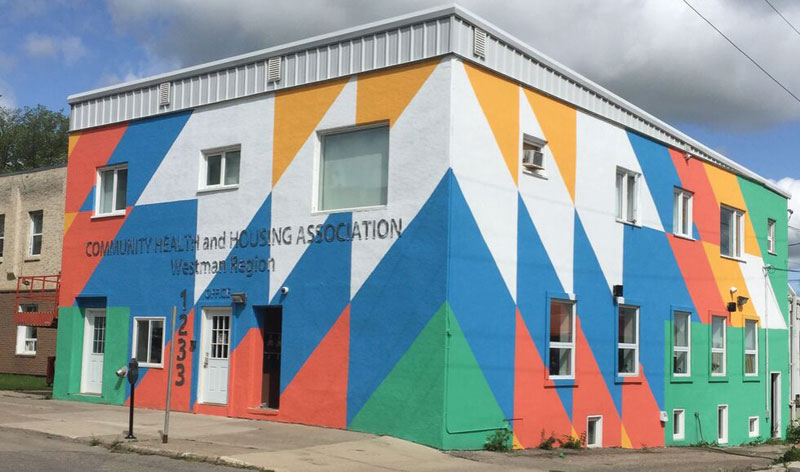 Mural 5
Location: 1233 Rosser Avenue
Artists: Kenneth Lavallee / Annie Beach
The Star Blanket Project honours those impacted by missing and murdered Indigenous women, girls, and Two-Spirit peoples — while also advancing the important conversation on this subject. The artist has painted several Star Blanket Murals in Winnipeg, however, this is a first for Brandon. The Star-Blanket-inspired design by Lavallee speaks to his Métis heritage and aspires to engage with Indigenous communities across the country. In First Nations' cultures, Star Blankets are bestowed as gifts of the highest honour. The Star Blanket's geometric representation of the ever-reliable morning star is intended to protect, empower, and give comfort and hope to those wearing it over their shoulders.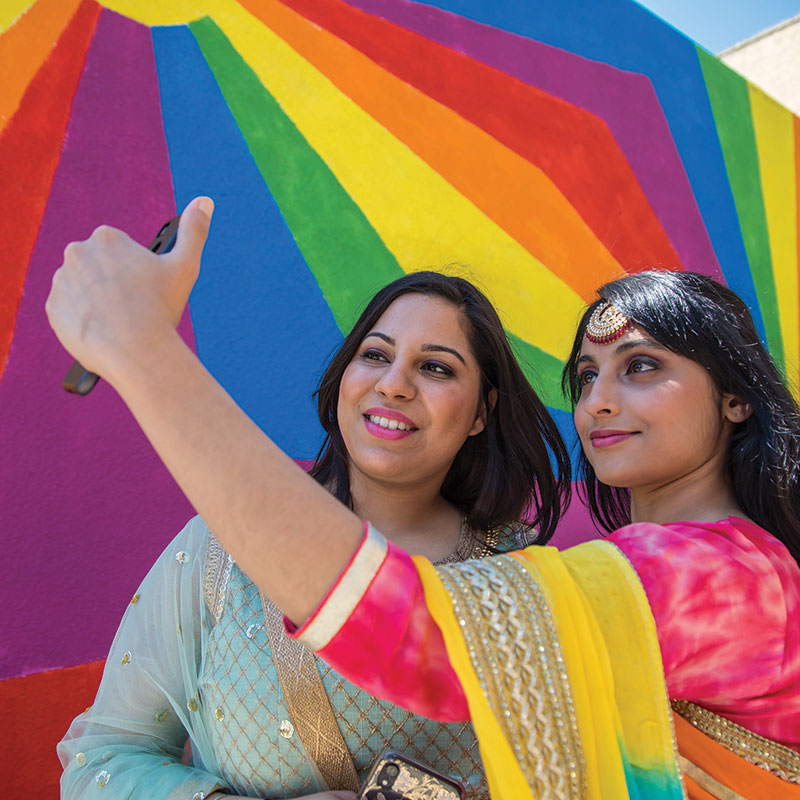 Mural 6

Location: 921 Rosser Avenue
Artist: James Culleton
This mural is called "Sun Spectrums" and it's a colourful and modern design inspired by some of Culleton's early work. It is fun and bright and will offer a great place for selfies. Culleton is multifaceted and he's a designer who uses his skills as a painter, sculptor, and musician to feed his passion for creativity. Known for his use of blind contour drawing, his work can be seen all over Winnipeg. His public art graces the façade of the West End Cultural Centre. He has published three books of his drawings and teaches design at Red River College in Winnipeg.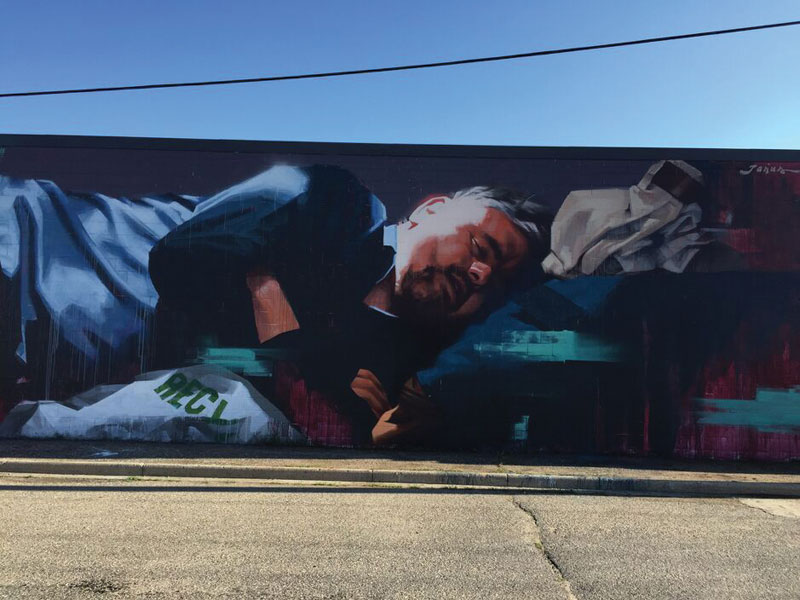 Mural 7
Location: 704 Pacific Avenue
Artist: Emmanuel Jarus
Jarus, a muralist from Regina, Sask., has done similar murals in Malaysia, Toronto, Atlanta and Chile.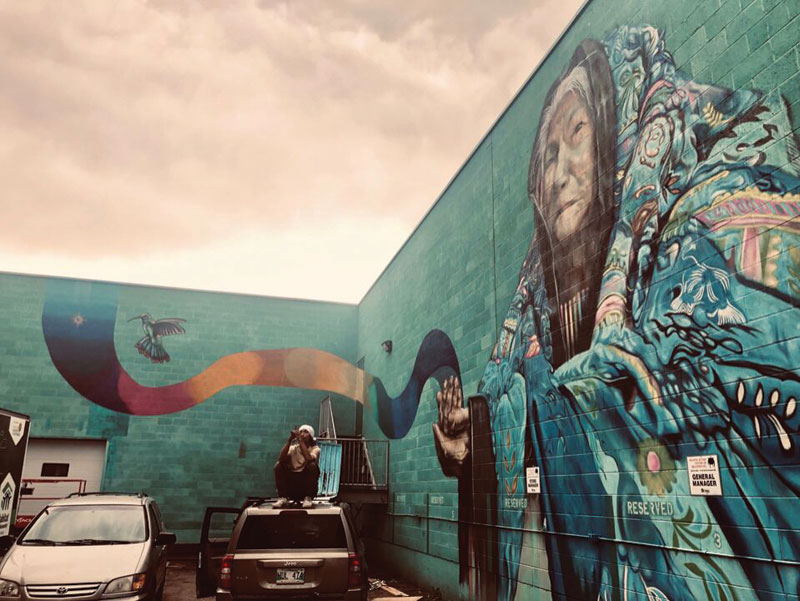 Mural 8

Location: 630 Rosser Avenue
Artist: Nereo Eugenio II
Nereo has worked professionally as a multidisciplinary artist for over 14 years, specializing in mural art design and has continuously made his mission to discover new, creative ways to improve his craft. He has a wealth of experience artistically and has also travelled internationally to major art festivals such as Ondalinda Mexico as a set designer.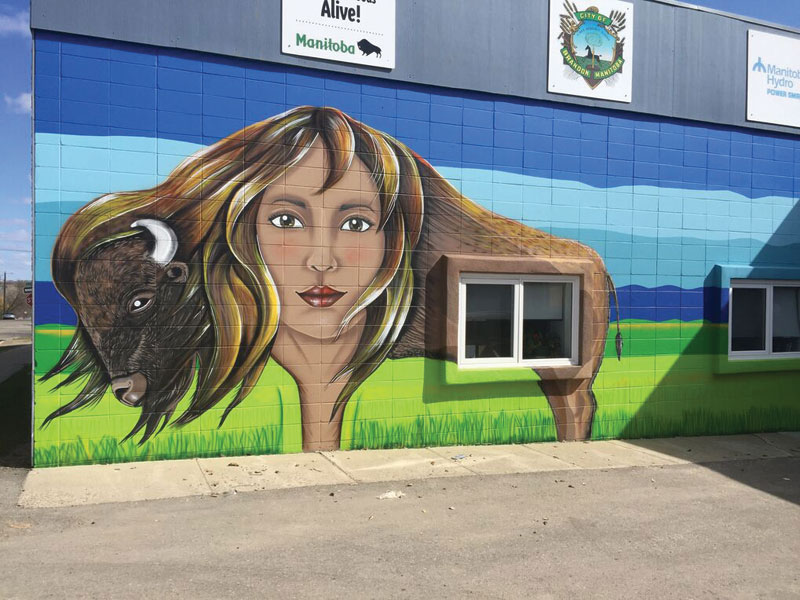 Mural 9

Location: 440 Rosser Avenue
Artist: Miguel Rodriguez
This mural represents the "Brandonite Women" as enterprising, providers, protectors and above all, strong. To convey this message, Rodriguez has joined three elements: the female figure, female bison as provider and protector and a background that represents the skies and prairies of Manitoba.