Jurassic Quest - Canada's Favourite Dinosaur Event!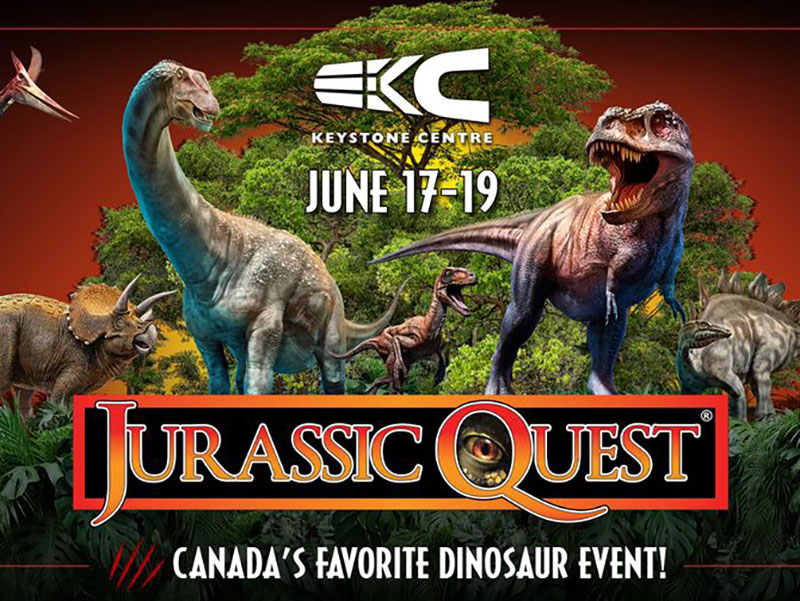 When
June 17-19, 2022
Where
Venue: Keystone Centre, 1175 - 18th Street, Brandon, MB
If You Go…
Jurassic Quest, the largest & most realistic traveling dinosaur show in North America, is ROARING through Brandon, MB! 🦖
More Info
More About this Event
Our event features more rides, activities, & dinosaurs than ever before! Sellouts expected, buy in advance to guarantee your time slot. Timed entry eliminates crowds and allows all guests to enjoy their Quest in a safe and accessible environment. If you plan to attend, we recommend purchasing tickets online ahead of time.
Come join us on June 17 - 19th at Keystone Centre!
Purchasing tickets ONLINE ahead of time to guarantee your entry time slot in case of SELL OUT is highly recommended. Tickets are also available at the venue on the day of the event. Prices are based on demand and subject to change. Buy today to secure your preferred time slot at the best price!
Only Jurassic Quest features:
* The largest and most realistic dinosaur exhibit including an incredible 50 foot long Megalodon, 60 ft. long, sky-scraping Spinosaurus, the 80 ft. long Apatosaurus and our gigantic LIFESIZE T-Rex.
* The Quest, an interactive adventure- simply pick up a brochure at the entrance and follow ten clues to the "Quest Spot" signs. Once you finish all the activities, collect a prize at the end- Ready, Set, Quest!
* Walking dinosaur rides & stationary dinosaur rides, which include some of the largest rideable dinosaurs in North America!
* See our incredibly realistic and interactive Baby Dinosaur & Raptor Training Experience
* Not to be missed - giant fossil dig, Triceratots" soft play area, science fossil exhibit, & MORE!
TIPS:
1. Strollers are welcome.
2. Be sure to bring your camera. There will be a TON of great moments to capture!
3. Bring socks for the kids! Socks are required for the inflatables.
4. Jurassic Quest is a self-guided experience. The average length of stay to enjoy all Jurassic Quest has to offer is 1 to 2 hours. We have timed entry at the indoor event to create a safe environment, limit crowds, and maximize enjoyment during your visit. You may not leave and re-enter the event.
5. For information on Jurassic Quest Covid-19 safety measures, visit 
https://www.jurassicquest.com/covid-message
. Jurassic Quest adheres to local venue and government Covid-19 guidance and requirements. For the most up to date information, please visit the venue website.