Dollhouse Makeover Show and Tell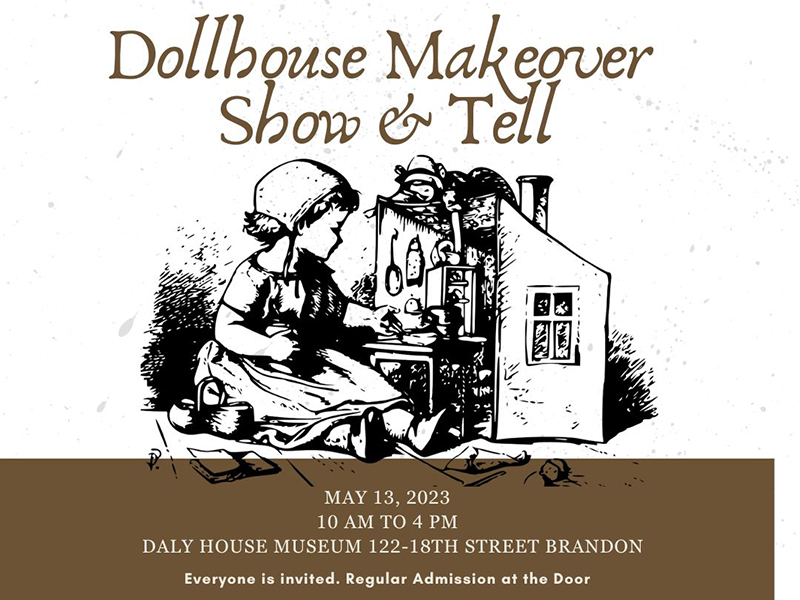 When
May 13, 2023
Where
Venue: Daly House Museum 122-18th Street Brandon, Manitoba
More Info
Phone: 204-727-1722
More About this Event
- Daly House Museum in partnership with the Little Bits of Brandon Miniature Club on Saturday May 13, 2023 will be holding a Dollhouse Makeover Show and Tell event in the second floor gallery at the Museum at 122-18th Street. The club will be helping to restore the Sigrid Green Dollhouse and its unique miniatures from 10 am to 4 pm. This is a rare opportunity to get up close to the miniatures in the Sigrid Green Dollhouse as the Little Bits of Brandon Miniature Club helps to clean the dollhouse and restore the over 100-year-old miniatures contained within the dollhouse.
Little Bits of Brandon Miniature Club members as they work on the dollhouse will also be sharing their own miniature creations with museum visitors. They will be sharing the history of the club and how the community can get involved as they share their knowledge and skills in the craft of creating miniatures.
"Skill level is not directly related to how long one has been making miniatures." says Little Bits of Brandon President Beth Smale. " An interest in the hobby and some learning of tips and tricks along with a creative mind is all that is needed. (Oh, and glue and tweezers and ….)."
The day long event takes place on Saturday May 13th in the Daly House Museum's second floor gallery from 10:00 am to 4:00 pm. Regular admission costs of $6.00 at the door. Bring Mom down as a Mother's Day treat for free.