Brandon Aboriginal Youth Activity Centre - calendar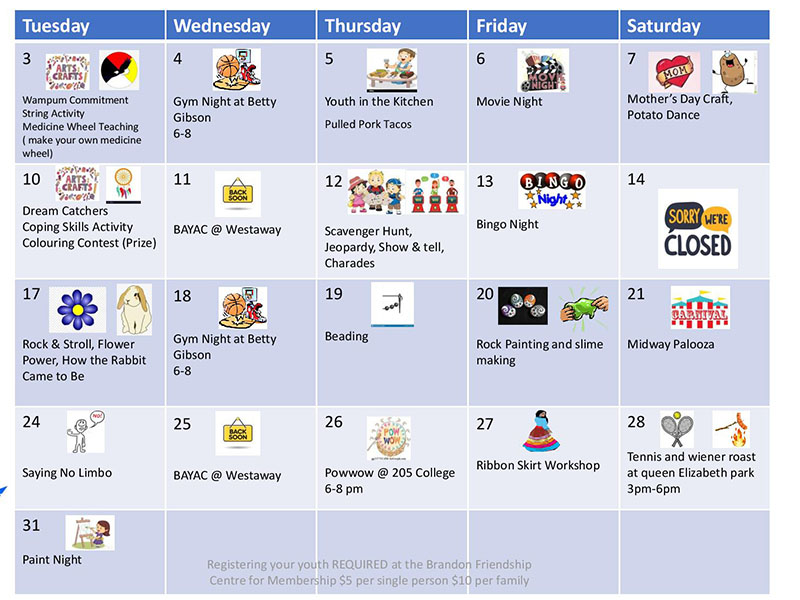 When
May 31, 2022
Where
Venue: 602 Rosser Avenue
If You Go…
Brandon Aboriginal Youth Activity Centre calendar
More Info
More About this Event
Registering your youth REQUIRED at the Brandon Friendship Centre for membership.
$5 per single person
$10 per family
BAYAC Mission
Brandon Aboriginal Youth Activity Centre (BAYAC) assists youth in the
development of healthy and positive lifestyles by encouraging culture, education, recreation, social activities, spirituality and leadership skills.
Vision Statement
The Brandon Aboriginal Youth Activity Centre strives to motivate Aboriginal and Non-Aboriginal Youth by sharing strengths, knowledge and leadership to make dreams and goals a reality.
BAYAC offers MANY different activities and experiences such as:
Youth In The Kitchen, Arts and Crafts, Pool Tables, Computers, Board
Games, TV Area, Recreational Activities, Swimming & Sports,
Cultural Based Activities (Dancing, Singing, Ceremonies, Grandfather
Teachings, Beading, Sweats), Camp Outs & BBQ's, Canteen, Homework Support & more!
Hours of Operation
Parent/Child Centre
Ages 6-11
Tuesday-Friday: 3:30-5:30pm
Saturday: 1-4pm
A Right To Play Program
Ages 12-18
Tuesday-Friday: 5:30-7:30pm
Saturday: 4-7pm
We are located at
Unit B -602 Rosser Avenue, Brandon MB, R7A0K7
Phone: (204) 729-8112
e-mail - BAYAC20182019@outlook.com
Our facility has security doors and cameras on site. Youth who
attend must be registered at the Brandon Friendship Centre and
it is REQUIRED we are not a drop in centre.