An Old Fashioned Radio Show & Dinner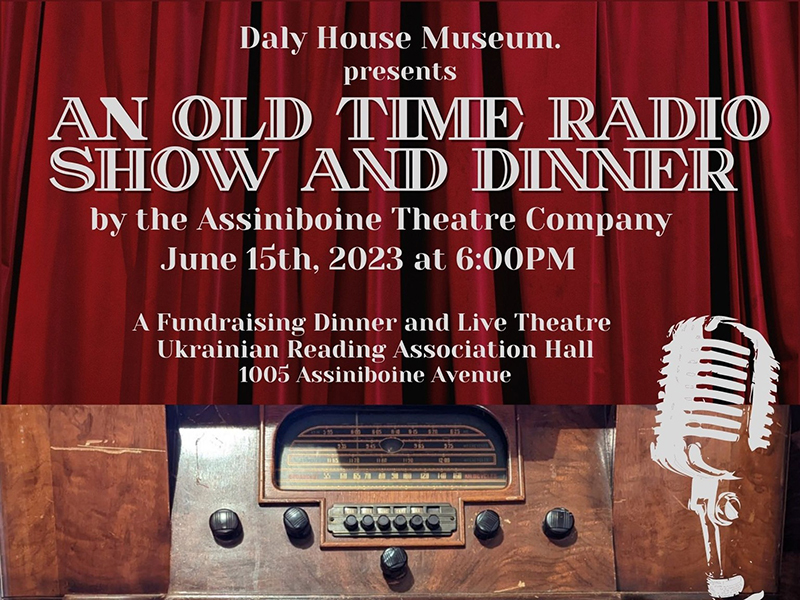 When
June 15-16, 2023
Where
Venue: Ukrainian Reading Association Hall 1005 Assiniboine Avenue Brandon, MB
More Info
Phone: 204-727-1722
More About this Event
A live dinner theatre fundraiser to support local history at Brandon's only house museum.
Daly House Museum has partnered with the Assiniboine Theatre Company to take you back to the days when voice actors and Foley artists performed live dramas and comedies for radio audiences. The Company members Debra Mason and Loretta Hamilton will perform ELEVATOR. The one act comedy by Cherie Stewart Thiesen about two older women meeting in an elevator in their apartment building and deciding to turn it into a Koffee and Kocktail Korner.
Debuting that night will be an original radio show CHESTER THE WONDER DOG AND THE EXTRATERRESTRIAL ALIENS FROM SPACE written and directed by George Baker.
Attendees to the event will enjoy a home style meal, complete with roast beef, perogies, and delicious salads. There will also be a 50/50 draw. Tickets are $55 for members and $60 for non-members. For more information or to purchase tickets, call Daly House Museum at 204-727-1722 or dalymuseum@wcgwave.ca or visit www.dalyhousemuseum.ca